The Best Place to Buy Used Apple Macbooks And IMacs in India
Author:Alman Ansari
Published on:
Introduction
Looking to buy used Apple products in India? Look no further than Macfreaks, your one-stop destination for high-quality pre-owned Apple devices. With a wide range of options including MacBooks, iMacs, and more, Macfreaks is the go-to place for tech enthusiasts who want to experience the world of Apple without breaking the bank.
At Macfreaks, we understand that purchasing brand new Apple products can be expensive. That's why we offer a curated selection of used Apple devices that are not only affordable but also in excellent condition. Our team of experts thoroughly inspects each product to ensure its functionality and reliability before it reaches our shelves.
When you choose Macfreaks, you can rest assured that you are getting a genuine Apple product with all the features and performance you expect. We take pride in providing our customers with a seamless shopping experience and exceptional customer service. Whether you're a student looking for an affordable MacBook or a professional seeking an upgrade to your iMac setup, we have the perfect solution for you.
With our extensive inventory and competitive prices, Macfreaks has become the preferred choice for individuals across India who want to own premium Apple products without paying full retail price. So why wait? Visit our website or drop by our store today and discover the best place to buy used Apple products in India - Macfreaks!
Why Choose Macfreaks for Used Apple Products?
At MacFreaks, ensuring product quality is our top priority. We understand that our customers rely on us to deliver high-quality products that meet their expectations. That's why we have implemented a rigorous testing process to ensure the best quality for every product we offer.
At MacFreaks, delivering exceptional product quality is not just a goal but a commitment we uphold in everything we do. we understand the importance of providing our customers with reliable and genuine products. That's why we have implemented a rigorous inspection process to ensure that every used Apple product we sell meets our high standards.
Our dedicated team of experts is committed to conducting thorough tests on all our products before they are released to the market. We employ a combination of manual and automated testing techniques to identify any potential issues or defects.
When it comes to purchasing used Apple products, there are countless options available in the market. However, if you value quality and authenticity, Macfreaks should be your top choice.
Choose Macfreaks for your next used Apple purchase and experience the assurance of quality and authenticity like never before.
Wide Selection of Used Apple Products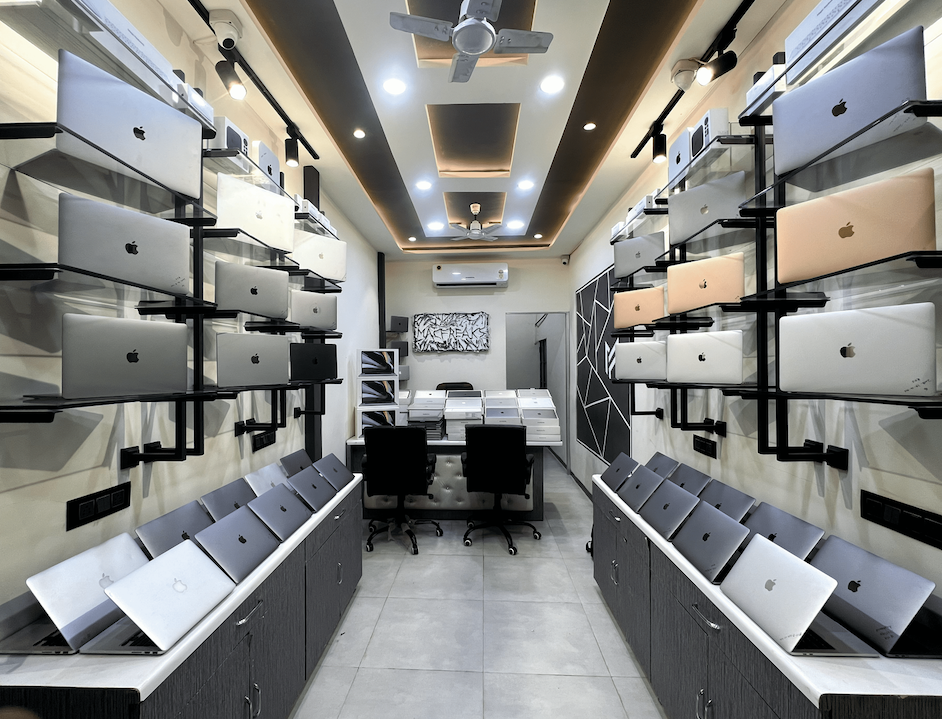 Discover a world of possibilities with our wide selection of used Apple products. Whether you're in the market for a MacBook or an iMac, we have an extensive range of options to suit your needs.
Our collection of used MacBooks offers a variety of models and configurations, ensuring that you can find the perfect fit for your lifestyle and budget. From the sleek and portable MacBook Air to the powerful MacBook Pro, each device is carefully inspected.
If you're looking for a desktop experience, our selection of used iMacs is sure to impress. With different variants and configurations available, you can choose the ideal combination of performance and design that suits your requirements. Whether you need a reliable workstation for creative projects or a versatile computer for everyday tasks, we have something for everyone.
We understand that purchasing pre-owned technology can be daunting. That's why we take pride in offering only the highest quality used Apple products.
Don't compromise on quality or break the bank when shopping for Apple products. Explore our diverse range of used MacBooks and iMacs today, and discover how you can enjoy all the benefits of Apple technology at an affordable price point.
Assurance of Quality with Our Warranty and Support:
At Macfreaks, we firmly believe in the quality and reliability of our used Apple products. That's why we provide an extensive 45-day warranty on all our products. This warranty covers any hardware defects or malfunctions that may occur during the initial period of ownership, offering you complete peace of mind. We thoroughly inspect and test each product to ensure its performance and durability. Our warranty is a testament to our confidence in the quality of our products and our commitment to customer satisfaction.
For select products, Macfreaks also provides access to Apple Care coverage. Apple Care is Apple's extended warranty program, which offers additional support and coverage beyond the standard warranty. It includes benefits such as priority access to Apple experts, comprehensive hardware and software coverage, and faster repair turnaround times. It's important to note that Apple Care coverage is only available if it is still active for the specific product. We do not provide Apple Care from our own services but assist you in accessing the benefits if it is already included.
In the rare event that you encounter any issues with your purchased Apple product, our team of expert technicians is here to assist you. Our highly skilled technicians specialize in Apple product repairs and possess the technical expertise to handle various hardware and software challenges. From minor repairs to more complex issues, our technicians are dedicated to resolving them efficiently and effectively, minimizing any inconvenience to you. Your satisfaction and peace of mind are our top priorities.
Customer Testimonials and Reviews
At Macfreaks, we take immense pride in our commitment to delivering unparalleled products and services to our valued customers. From YouTube content creators seeking reliable devices to professionals and business owners in need of high-performance solutions, our customer base spans across diverse industries. But don't just take our word for it. We believe in the power of genuine feedback, which is why we are thrilled to share the testimonials of some of our esteemed customers. These authentic voices speak to the exceptional quality of our used Apple products and the unmatched level of service that Macfreaks consistently provides. We invite you to hear directly from our satisfied customers and discover why Macfreaks is the trusted choice for all your Apple product needs.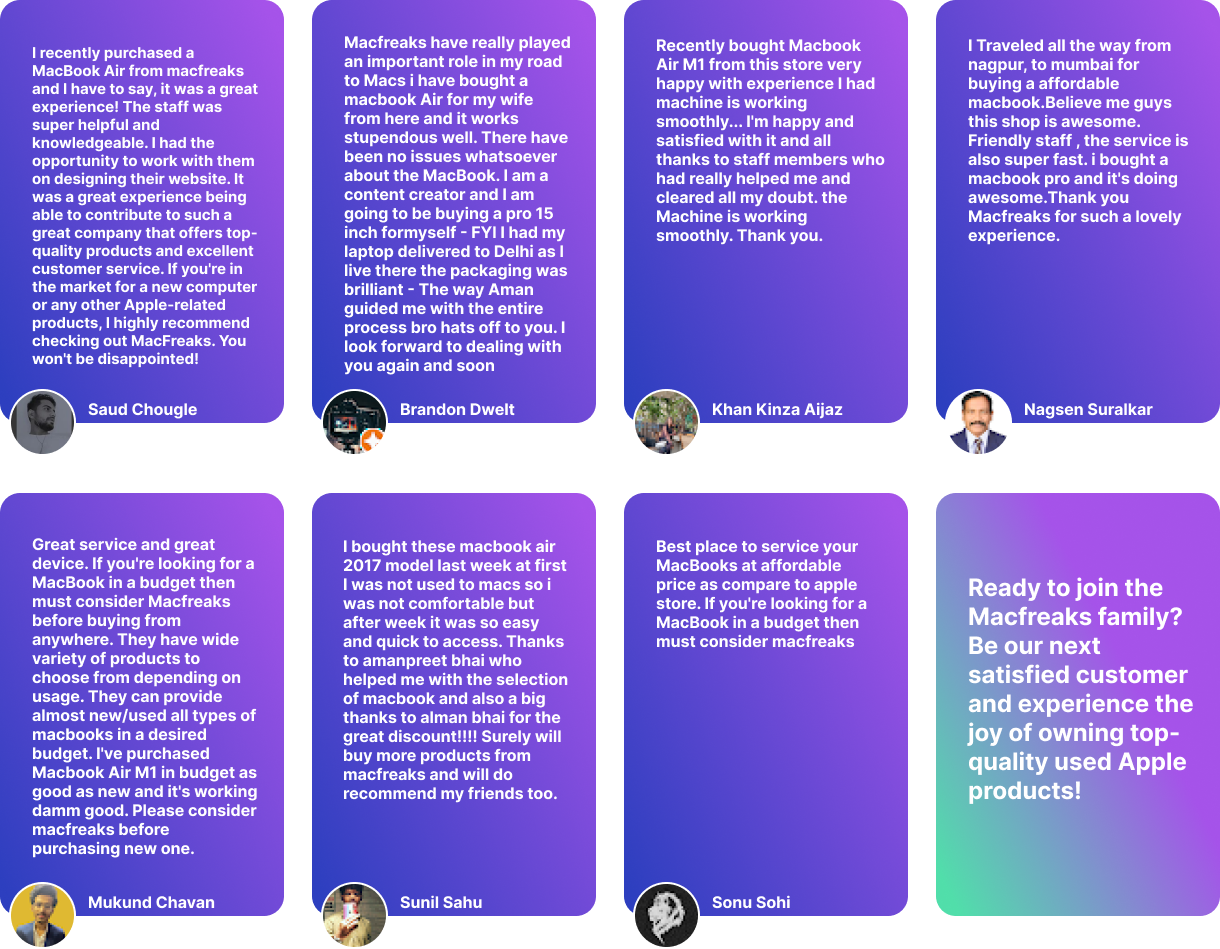 Buying Guide: Your Questions Answered
At Macfreaks, we understand that you may have some questions in mind as you consider purchasing a used Apple product. We're here to provide you with all the information you need to make an informed decision and ensure your peace of mind. Let's address some of the common questions our customers have:
Where can I browse the products? You can easily browse our wide range of products on our website at https://www.macfreaks.co.in/products. Our website offers detailed information about each product, including specifications, condition, and pricing. We recommend starting your search here to explore the available options and find the perfect match for your needs.
How can I contact Macfreaks? We've made it simple for you to reach out to us. You can contact us through various channels based on your preference. If you have any questions or need assistance, you can fill out the contact form on our website https://www.macfreaks.co.in/contact-us, and our dedicated team will promptly respond to your inquiry. Additionally, you can reach us via WhatsApp or Instagram, where we are actively listening to our customers and providing support.
Are your services limited to Mumbai or is it PAN India? We're proud to serve customers across India. While our physical store is located in Mumbai, our services are not limited to this city alone. In fact, 30% of our clients are from outside Mumbai. No matter where you are in India, you can take advantage of our products and services with confidence.
What payment options are available? We offer convenient and secure payment options to make your purchase process smooth and hassle-free. You can choose to pay through various payment methods, including debit card, credit card, net banking, and UPI. We prioritize the security of your transactions and ensure that your personal information is protected.
Is there a return policy if I change my mind about the unit? Yes, we offer a 7-day return policy on our sold units. We understand that sometimes preferences or circumstances may change, and we want you to be satisfied with your purchase. If you decide that the unit is not suitable for your needs within 7 days of purchase, you can initiate a return. Please note that a 20% deduction will be applied to the refund amount to cover handling and restocking costs.
We hope that these answers have provided clarity and reassurance regarding your concerns. At Macfreaks, we strive to deliver exceptional service and support at every step of your buying journey. If any of your concern unanswered you can check FAQs section of our website https://www.macfreaks.co.in/#FAQ. please don't hesitate to reach out to us.
Conclusion
Wide Selection of High-Quality Used Apple Products: Explore our diverse range of MacBooks and iMacs to find the perfect fit for your needs and budget.
Rigorous Quality Assurance: Our meticulous testing and inspection process ensure that each product meets our high standards of quality and reliability.
Competitive Pricing: Enjoy significant savings on premium Apple products compared to buying new, without compromising on quality.
45-Day Warranty and Apple Care Coverage: Gain peace of mind with our comprehensive warranty and access to Apple Care for select products.
Expert Technicians and Support: Our skilled technicians are ready to assist you with repairs, technical support, and any queries you may have.
Customer Testimonials and Reviews: Hear from our satisfied customers across various industries, building trust and credibility in our products and services.
PAN India Service: We serve customers all across India, ensuring that everyone can experience the Macfreaks difference.
Links
Recent Blogs